Despite having a good knowledge related to computer networks and even have some certifications on the subject, Luke, a 26-year-old IT analyst has just received a mission to deploy a new network using only HP switches.
Follow Luke's history and a step by step approach to a network project implementation created by a certified project management professional.
English | Portuguese | Spanish
Join The 2000+ Satisfied Customers Today
Our book has been the #1 selling HP Network Book on Amazon for more than 1 year, making it the most trusted and complete book related to HP Network Project on the market.  Powerful project management techniques & a step by step configuration approach will be responsible for helping you to get the job done. We are dedicated to providing you with the best experience possible. Read below our table of contents showing you all subjects included in the book.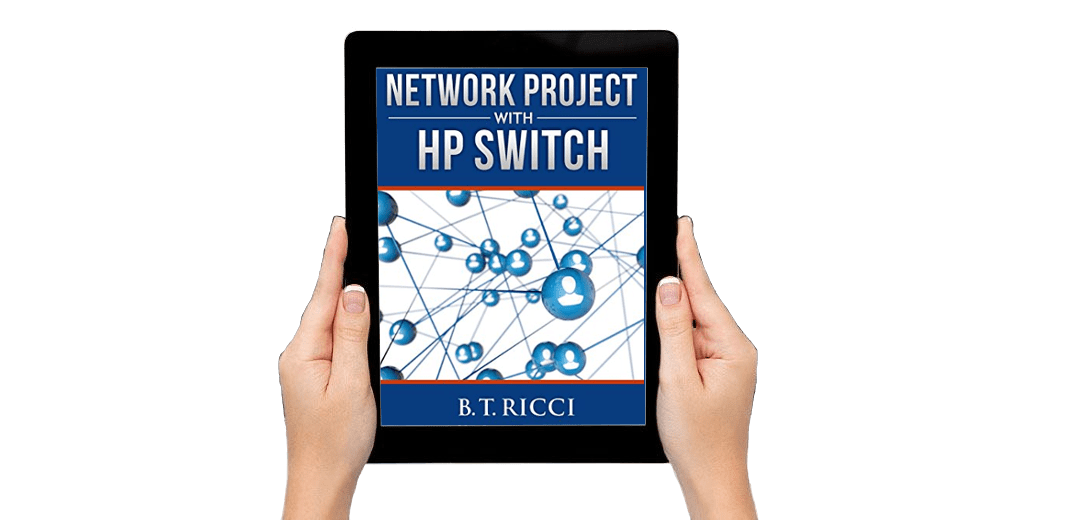 Table of Contents
Here you will find the list of topics covered throughout the book.
CHAPTER 01 - NETWORK PROJECT
• Stakeholders
• Project Requirements
• Project Scope
• Switch Model
• Project Closure
• Conclusion
CHAPTER 02 - INITIAL SETUP
• Physical Connection
• Accessing the Console
• Setting an IP Address
• Secret Command-Line Interface
• Access Recovery
• Conclusion
CHAPTER 03 - POST-INSTALLATION
• Changing the Default Password
• Firmware Upgrade
• Changing the Hostname
• Setting Date and Time
• Centralizing the Log Files
• Conclusion
CHAPTER 04 - ACCESS MANAGEMENT
• Creating a User Group
• Creating a User
• Enabling Remote Access
• Conclusion
CHAPTER 05 - VIRTUAL NETWORK
• Creating a Vlan
• Vlan Configuration
• Trunk Configuration
• Hybrid Configuration
• Conclusion
CHAPTER 06 - ROUTING BETWEEN VLANS
• Initial Setup
• Setting an IP Address
• Device Types
• Step by Step Guide
• Vlan Creation
• Virtual Interface Creation
• Setting the Default Route
• DHCP Server Installation
• Conclusion
CHAPTER 07 - VOICE OVER IP
• Creating a Voice Vlan
• Voice Vlan Configuration
• Conclusion
CHAPTER 08 - PERFORMANCE & REDUNDANCY
• Link Aggregation – Trunk Mode
• Link Aggregation – Access Mode
• Link Aggregation – Windows 2012
• Conclusion
CHAPTER 09 - CENTRALIZED AUTHENTICATION
• Step by Step Guide
• Create User Group
• Radius Server Installation
• Radius Server Configuration
• Configure Radius Authentication
• Conclusion
CHAPTER 10 - NETWORK MONITORING
• SNMP Configuration
• SNMPv3 Configuration
• Conclusion
CHAPTER 11 - PORT MONITORING
• Port Mirroring
• Conclusion
CHAPTER 12 - PACKET FILTER
• Step by Step Guide
• Access List Creation
• Access Class Creation
• Behavior Creation
• Create Access Policy
• Applying the Access Policy
• Conclusion
CHAPTER 13 - BANDWIDTH LIMITATION
• Traffic Shaping
• Conclusion
CHAPTER 14 - DEVICE ISOLATION
• Configuring Port Isolation
• Conclusion
CHAPTER 15 - VIRTUAL LABORATORY
• Step by Step Guide
• VirtualBox Installation
• Wireshark Installation
• HP Network Simulator Installation
• Using the Network Simulator
• Conclusion
• Afterword
About the Author
Here you will find some information related to the author, his experience and history within the Information Technology world.
B. T. Ricci works with information technology in the areas of network and information security for over 15 years. He has numerous network projects deployed over 13 countries and currently works as an information technology manager at the defense department.
Among his qualifications, we have certifications related to computer networks like CCNP and CCDP, certifications related to information security like CISSP, CBCP, and CCSP, certifications related to project management like PMP and PMI-RMP, his MCSE certification related to Microsoft Windows and LPIC2 related to Linux.
I would write books for free if I did not have bills to pay!