Wilt u leren hoe u een RabbitMQ installatie op Ubuntu Linux doen? In this tutorial, we are going to show you how to install RabbitMQ on a computer running Ubuntu Linux.
• Ubuntu 20
• Ubuntu 19
• Ubuntu 18
• RabbitMQ 3.8.4
RabbitMQ - Gerelateerde zelfstudie:
Op deze pagina bieden we snel toegang tot een lijst met tutorials met betrekking tot RabbitMQ.
Tutorial RabbitMQ - Installatie op Ubuntu Linux
Gebruik apt-get om de vereiste pakketten te installeren.
Download en installeer de RabbitMQ repository sleutel.
Voeg de RabbitMQ repository toe aan je Ubuntu Linux.
Werk de APT-GET database bij en installeer het RabbitMQ pakket.
De RabbitMQ-service configureren om automatisch te worden gestart
Start de RabbitMQ-service.
Gebruik de opdracht NETSTAT om te controleren of de service wordt uitgevoerd op poorten 5672 en 25672.
In ons voorbeeld draait de RabbitMQ-service op de poorten 5672 en 25672.
Gefeliciteerd! Je bent klaar met de RabbitMQ installatie op Ubuntu Linux.
Zelfstudie RabbitMQ - Webinterface
Maak een nieuw beheerdersaccount aan.
In ons voorbeeld hebben we een account aangemaakt met de naam Admin met het wachtwoord kamisama123.
Schakel de vereiste RabbitMQ-plug-in in.
Hier is de opdrachtuitvoer.
De RabbitMQ-webinterface zal beschikbaar zijn op de TCP-poort 15672.
Open uw browser en voer het IP-adres van uw RabbitMQ-server plus :15672 in
In ons voorbeeld is de volgende URL ingevoerd in de browser:
• http://192.168.15.10:15672
De RabbitMQ-webinterface moet worden weergegeven: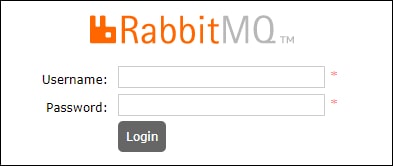 Gebruik in het aanmeldingsscherm het aangemaakte beheerdersaccount.
• Gebruikersnaam: Beheerder
• Wachtwoord: kamisama123
Na een succesvolle login wordt u naar het RabbitMQ Dashboard gestuurd.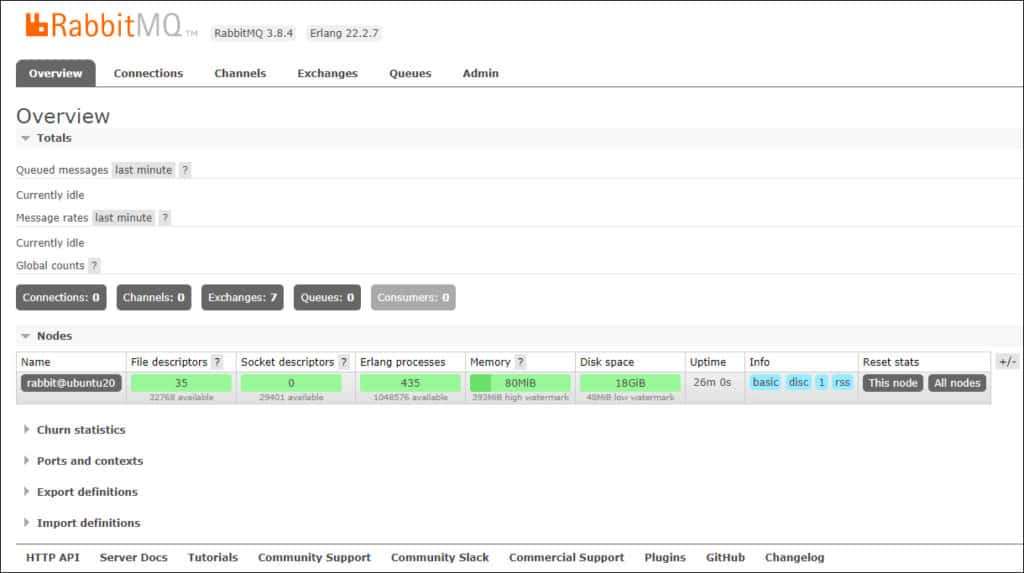 Gefeliciteerd! U bent klaar met de installatie van de RabbitMQ webinterface.