Would you like to learn how to do the Cisco WAP321 SNMP configuration?  In this tutorial, we are going to show you how to configure SNMP on the Cisco WAP321 access point.
Hardware List:
The following section presents the list of equipment used to create this Cisco tutorial.
Every piece of hardware listed above can be found at Amazon website.
WAP321 Related Tutorial:
On this page, we offer quick access to a list of tutorials related to WAP321.
Tutorial - Cisco WAP321 SNMP Configuration
Open your browser and enter the IP address of the WAP321.
On the login screen, use the default username and default password.
• Default Username: cisco
• Default Password: cisco

After a successful login, you will be sent to the WAP321 Dashboard.
On the Web interface, access the SNMP menu.
Select the General option and perform the SNMP configuration as desired.
Here is an example of our configuration.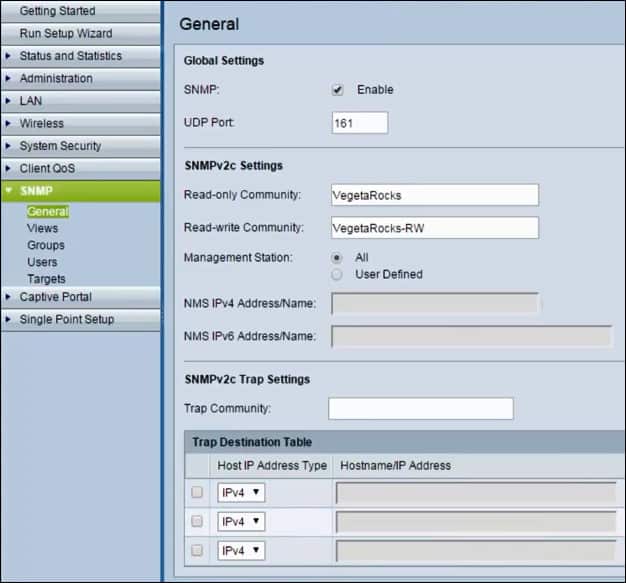 Don't forget to save your Access point configuration.
You have successfully enabled the WAP321 SNMP service.
You have successfully configured the WAP321 SNMP service.
To test your WAP321 SNMP configuration, use the following commands on a computer running Ubuntu Linux.
# apt-get install snmp
# snmpwalk -v2c -c VegetaRocks 192.168.0.15
In our example, 192.168.0.15 is the IP address of the WAP321 device.
Keep in mind that you need to change the SNMP community name and the IP address of the WAP321 device to reflect your network environment.