Vil du lære hvordan du lager en brukermeny ved hjelp av Powershell? I denne opplæringen skal vi vise deg hvordan du bruker Powershell til å vise en tekstmeny på skript.
• Windows 2012 R2
• Windows 2016
• Windows 2019
• Windows 10
• Windows 11
Equipment list
Here you can find the list of equipment used to create this tutorial.
This link will also show the software list used to create this tutorial.
Relatert opplæring - PowerShell
På denne siden tilbyr vi rask tilgang til en liste over tutorials knyttet til PowerShell.
Opplæring Powershell - Opprette en brukermeny
Start en Powershell-kommandolinje.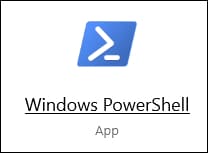 Lag et Powershell-skript for å vise en brukermeny.
Rediger Powershell-skriptet.
Kjør Powershell-skriptet for å vise brukermenyen.
Her er kommandoutdataene.
Alternativ 1 vil be brukerinndata for å utføre en nettverkstilkoblingstest.
Alternativ 2 vil be brukerinndata for å vise en melding.
Alternativ 3 vil avslutte Powershell-skriptet.
Andre alternativer vil vise standardmeldingen.
Gratulerer! Du kan vise en brukermeny ved å bruke Powershell.