Vill du lära dig hur du skapar en användarmeny med Powershell? I den här självstudien kommer vi att visa dig hur du använder Powershell för att visa en textmeny på skript.
• Windows 2012 R2
• Windows 2016
• Windows 2019
• Windows 10
• Windows 11
Equipment list
Here you can find the list of equipment used to create this tutorial.
This link will also show the software list used to create this tutorial.
Relaterad självstudie - PowerShell
På den här sidan erbjuder vi snabb tillgång till en lista med självstudiekurser relaterade till PowerShell.
Powershell för självstudiekurs – Skapa en användarmeny
Starta en Powershell-kommandorad.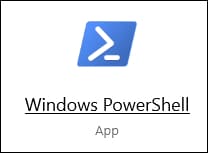 Skapa ett Powershell-skript för att visa en användarmeny.
Redigera Powershell-skriptet.
Kör Powershell-skriptet för att visa användarmenyn.
Alternativ 1 begär att användarindata utförs för att utföra ett nätverksanslutningstest.
Alternativ 2 begär att användarinmatningen ska visa ett meddelande.
Alternativ 3 avslutar Powershell-skriptet.
Andra alternativ visar standardmeddelandet.
Grattis! Du kan visa en användarmeny med Powershell.